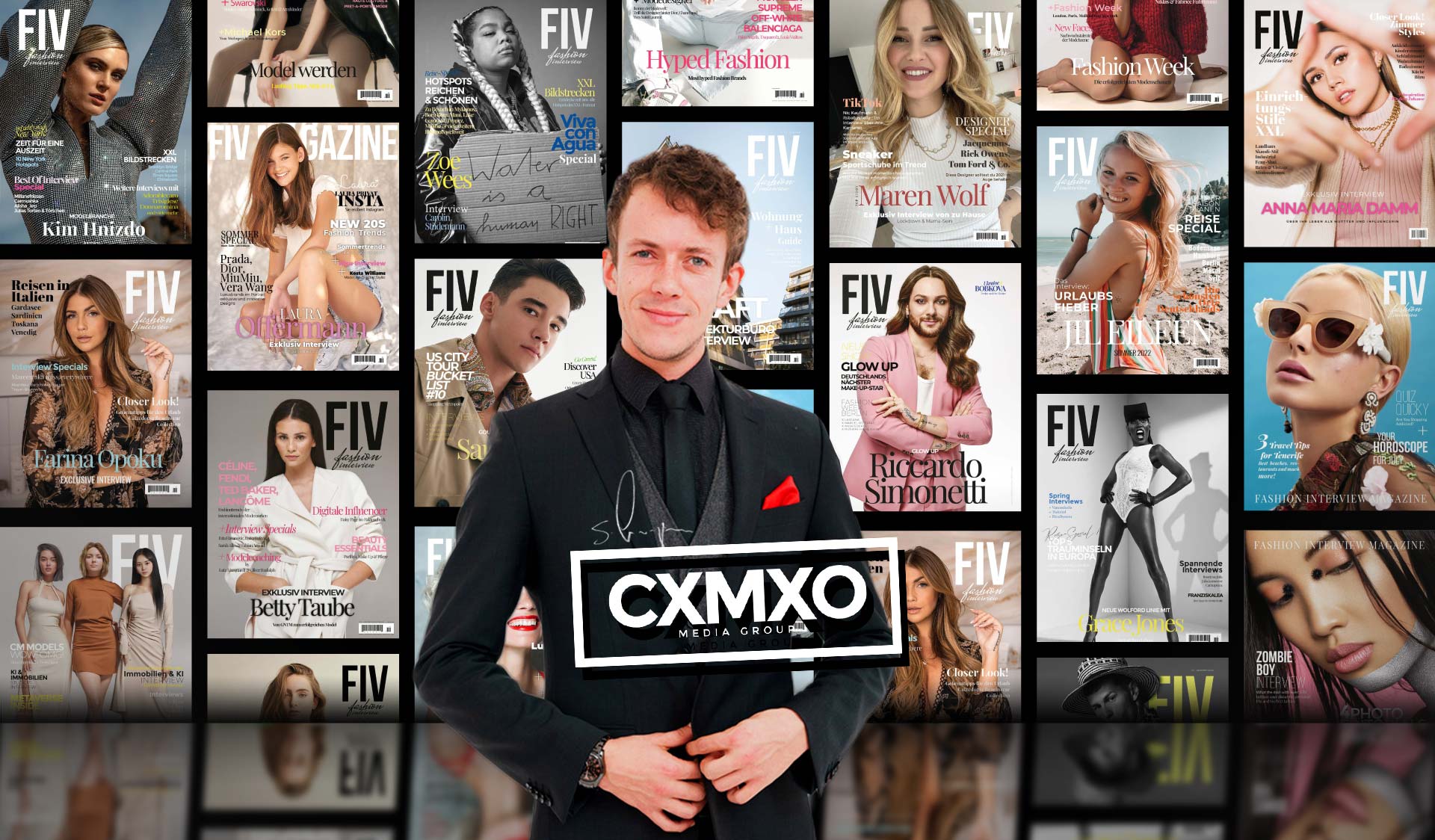 CXMXO Story: Models, Marketing, Real Estates and new Fragrances!
Exploring CXMXO: Our Journey, Our Passion – At CXMXO Holding, we invite you to embark on a journey with us – a journey that encapsulates our unwavering passion for innovation, creativity, and excellence. As a dynamic media conglomerate, our story is one of evolution, expansion, and an unrelenting commitment to delivering top-notch services to our clients.
The Genesis
Founded in 2015 by media entrepreneur Stephan Czaja, CXMXO Media Group started with a clear vision and a humble beginning. Our initial venture, CM Models, marked our entry into the world of high-fashion modeling, setting the stage for what would become a remarkable odyssey.
Expanding Horizons
The subsequent years witnessed the addition of Social Media One, our media agency, and FIV Magazine in 2017. This expansion broadened our scope, allowing us to cater to diverse sectors and provide innovative media solutions to our clients.
Pioneering in Influencer Marketing
By 2018, we had recognized the power of influencer marketing and ventured into this burgeoning field. CXMXO Media Group swiftly emerged as a significant player in influencer marketing, leveraging our expertise to help brands connect with their audiences effectively.
Real Estate and Innovation
2020 brought a new dimension to our portfolio with the inclusion of real estate marketing and scouting, exemplified by Lukinski. The subsequent year saw us achieve milestones in the realms of virtual reality, introducing the first VR avatars in commercial spots and hosting Europe's inaugural VR fashion show.
Embracing Innovation
In 2023, our spirit of innovation remained unquenchable as we introduced ImmoGuru, an app tailored for the real estate sector. And to top it all off, we launched FragranceTip, an e-commerce platform dedicated to offering an exquisite collection of fragrances from around the world.
Our Diverse Portfolio
CXMXO Media Group stands as a testament to our commitment to diverse excellence. From model agencies and media ventures to influencer marketing, real estate, and cutting-edge app development, our portfolio is a reflection of our passion for exploration and creativity.
The Visionary Leader
Behind the success of CXMXO stands Stephan M. Czaja, the visionary founder. His fervor for brand creation, expertise in media, and dedication to excellence have been instrumental in propelling us from a modest €1000 seed capital in 2015 to serving clients across three continents.
Unveiling Our Strengths
Our key strengths encompass brand building and development, model and celebrity management, performance and media marketing, real estate development, media expertise spanning TV stations and magazines, and Stephan's role as an accomplished author and speaker.
Join Our Journey
We invite you to explore the universe of CXMXO, where passion knows no bounds, and possibilities are limitless. Our commitment to creating love brands, revolutionizing e-commerce, making impactful marketing, building media empires, and reshaping real estate continues to drive us forward.
Stay connected with us as we share exciting updates, projects, and innovations, redefining excellence in the world of media and beyond. At CXMXO, we are architects of tomorrow, and we're excited to have you along for the ride. Join us as we craft the future, one innovation at a time.
https://cxmxo.com/wp-content/uploads/2023/10/cxmxo-group-explained-stephan-czaja-cm-models-lukinski-real-estates-social-marketing-one-small.jpg
1124
1920
C_kinski
https://cxmxo.com/wp-content/uploads/2023/01/cxmxo-logo-real-estate-marketing-media-investment-stephan-czaja-black.svg
C_kinski
2023-09-18 11:18:35
2023-10-15 15:39:49
CXMXO Story: Models, Marketing, Real Estates and new Fragrances!